Tuesday, July 10, 2012 at 5:20PM
Okay, this is what I was waiting for...
The
Studio Six Digital IAudioInterface2
. IAI2 is rugged and solid….built like the Sound Devices gear. It has an internal battery for phantom power, so it draws nothing from the iPad/iPhone. And, if you have the charger plugged in to charge the internal battery, it also charges the iOS device battery too. $399.99 Pricey, perhaps, but it's actually a piece of pro gear…..as opposed to a consumer device like the
Tascam iU2
. It even has optical output.
There is an App called
AudioTools
that gives control to inputs and outputs. When you close the app, it saves your preferences to flash ROM in the IAI2. It might be a little daunting for a non-technical person, but gives much flexibility…….and the bonus of not being able to accidentally change settings while in the field. The app also has a nerdy suite of
test tools
.
You can actually plug the 416 right into the unit for a one handed operation (okay, two, if you are holding the iPhone). And it has 1/4 jacks and will drive real headphones.
The audio is very clean, with very little self noise……and I am a freak about that…….any discernible noise is not okay with me…..because of how heavily processed the end result may often be. But this is very quiet.
Works great with
TwistedWave
for iOS.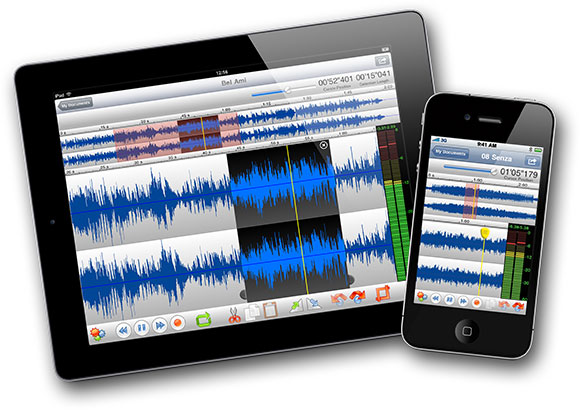 It's much better than the
Tascam iU2
. The iU2 works with iOS devices….but it is designed to sit on the
desktop, not work in the field. It has a bunch of switches on the underside, which are inconvenient and it has no power source. For portable, it must be plugged into a USB battery pack or USB powered hub. It has way too much internal noise for my taste. However, if one wishes to travel with only one audio interface device, iU2 works with Mac OS X Core Audio. So, less to carry.
Still, the IAI2 is the winner. Almost twice the price….but it is a real piece of PRO gear.
Comments Off
| |
Email Article
|
tagged
beau weaver,
iPad,
interface,
ios,
iphone,
professional,
recording,
usb
|
in
Cool Tools,
New Tech,
Tips for Travelers